Why Worry When In Hurry! Hire Fiwd for your Website Maintenance, Sit Back & Watch Growth!
No need to worry more! Now First Idea Web is here for you your assistance and your help! 
It's come on our shoulders to provide you with website maintenance plans when you come to us! The One-Stop Solution for Website Maintenance!
Availability of Cheap Website Maintenance Packages? Wow!
First Idea Web Development working with honesty and struggling hard to serve clients with website maintenance plans at cheap website maintanab=nce package. Moreover, we serve you with the appropriate and suitable website maintenance plans at the low affordable monthly website maintenance packages. We convince and encourage our clients to come to us and get monthly website maintenance package from us and get website maintenance of your websites.
Get in touch now and order the monthly website maintenance package plan!
The Cheap & Affordable Website Maintenance Plan
First Idea Web Development now for your convenience at your doorstep providing with a cheap monthly website maintenance package. Serving clients with the all best services of web maintenance. Meanwhile, the services provided for web maintenance by us are:
Updating & Upgrading Service:
As the best service providers, we serve our clients to provide with the updating and upgrading of website maintenance at cheap and low monthly website maintenance package.
Customer Accretion:
Meanwhile, we aim to provide our customers with cheap website maintenance packages. And make customers website such that it convince the users to visit the website again. Moreover, we provide attractive graphics for your website and serve you with the best website maintenance plan. Moreover, aims to provide the user-friendly website.
Technical Support:
We provide basic and important technical support to the website to our clients at affordable web maintenance packages. Our expert developers aim to provide our clients with complete technical support to your websites.
Content Solutions:
We have expert content writers aiming to provide you with the best and unique content for your websites and make your website description more best. Moreover, aim to provide you with the website with all the basic content and details of products and services for your website.
Best & Affordable Monthly Website Maintenance Packages for You!
Meanwhile, serving clients with the best services First Idea Web Development providing clients with the monthly website maintenance plan. Moreover, aiming to serve the clients with the best and professional website. Provide with the website which brings the great number of customers and clients to your website.
Moreover, we suggest our clients compare their requirements for website maintenance with the services provided by our website maintenance plan and then go for our plan at a cheap monthly website maintenance package. The key features of our website maintenance plan are:
Update the information on the website and also the photos on your website

Maintain the functions of tools of your website

Adding links and more related photos to your website

Furthermore, help you to provide and optimizing the content of the website

Ensure the quality of the website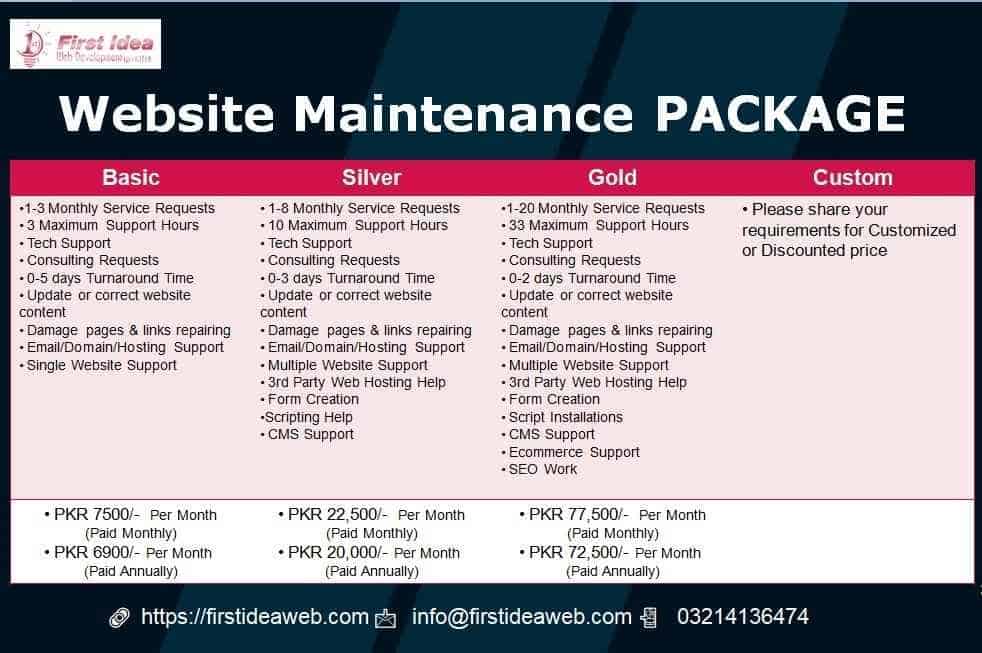 Why only FIWD?
The one-stop solution to all your web problems only FIWD. Moreover, the advanced and technology company providing advanced web development maintenance packages.
So, if you are looking for the services, Contact FIWD PVT LTD through call, WhatsApp, online chat, Google, or drop an email.
Try Domain & hosting, SEO and website development & enhance your business through Digital Marketing.
To generate a ticket / give suggestion/complaint, please click here.