Get Pakistani mobile apps development, best mobile app developers in Pakistan available. Order custom mobile app development.
Mobile Apps Development cost in Pakistan
In this article, we will discuss all the information regarding Mobile apps development, Pakistani mobile apps, mobile app developers, custom mobile app development, mobile app developers in Pakistan etc.
Mobile App Development
Start a Business
Android App Development
Mostly, we use material Design to give a better layout and user experience.
We use user feedback option that helps to get the opinion of people about business.
Our application provides you a quick and fast response that everyone prefers to use.
Start a Business
IOS Application Development
In addition, to make sure that our apps are scalable, smooth and secure.
Secondly, we develop apps user-friendly and have an intuitive interface.
We developed apps for all specific domain and customize according to respective categories
Wondering about coding your own ideas to the path of success? Well, all of us wants the same but only a few get it for real.
There might be a sea full of factors holding the key of the loophole of what success you what, a significant one rarely gets in the limelight. There are a number of mobile app development tools available. Each and every tool here has it's own upstream and downstream depending upon the project you choose to work on.
Though a cross-platform company of app development entrusted with any project has to strike the right balance among what required and what is there to use and should go in the right direction as well. Follow us for Pakistani mobile apps development services, mobile app developers in Pakistan, mobile app developers in Pakistan, etc.
Facility of android mobile application development
With years of involvement in Mobile apps development, the First idea web development company can make easy to understand versatile applications for both Android and iOS stages. Up until now, our group has effectively made scores of applications for business, online networking, instruction, and different verticals. Due to these reasons, the customer feels good to work with us. And because of its work first idea web is famous. So for Mobile apps development, Pakistani mobile apps, mobile app developers in Pakistan, mobile apps developers you can contact us.
Mobile App Development Services
In this era of imprudent and busy human beings. All we need to look up to is something we can completely rely on. While mobile devices and apps are rotating 360 degrees the style of our living and even the digital sphere.
From chores to large scale business settlements, we are mostly relying on mobile applications. So, we sure do have the Pakistani mobile apps services for the same.
Services vary as the company does.
Some of the services which mind inventory companies drenched hard in the mobile app development offered. With solutions, making the company reach in the win-win situations are.
iPhone app development
Android app development
React Native development
Ionic app development
iBeacon app development
IOT app development
The services for mobile app development helps a particular app to get it's desired peak.
Mobile App Development Languages
Like us, mobile app developers also use languages for the purpose being. Multiplied are the mobile applications companies all these years, that too in leaps and bounds.
While you build a particular app of your use, you need to validate it then after. Develop your skills to focus on the target and choose wisely a platform for your work. At last, when it's all done, it's time to select a programming language. Never take off your mind the main business strategy to make your app, the best.
Choosing the right programming language is hence mandatory. Some are as follows:
HTML5
Objectives – C
Swift
C++
C#
Java
Although, as I said earlier, not all of them necessarily be the language you want for your app. You can choose accordingly.
What is Mobile App Development
Mobile app development is a kind of action or a whole process through which any particular mobile application is actually developed for mobiles devices, i.e. mobile phones, digital personal assistants, or digital enterprise assistants. The above applications are often already installed on the mobile phones at the initial level, whilst manufacturing.
Being a part of the process of development, user interface (UI) design of mobile is important too in the creation of a cell phone.
All mobile phones have applications. A mobile phone loses its meanings without apps.
The mobile app development company has come a long way in developing these applications useful for us, at times mandatory also. We can't do it anymore, without our phones filled with the apps of our choices and needs. The real and legal fashion in which the applications we use are created or made is called mobile app development.
Mobile App Development Companies
One such company is First Idea Web. Here trained official do this high-quality mobile app development. These mobile app developers in Pakistan work to produce high-end work in developing Pakistani mobile apps at reasonable rates.
Custom Mobile App Development
In custom mobile app development, we need a custom, native iOS, Android, windows app or you would need a hybrid cross-platform app.
Custom mobile app development helps in many ways as nowadays we are using apps for almost everything in life. We depend on these apps for even doing even the most general work. We have businesses of all kinds in today's world, ranging from small general stores, retailer shops to big multinational companies.
Custom mobile app development actually works to increase the employees, dramatically streamline the business operations and many more.
The high rated reason being for the success and fame of custom apps is not only that they help companies take out and frame out their unique and fabulous ideas into reality but also that this helps to find a new way to the hill of triumphs, delivering personalized user experience.
Many wide ranges of custom mobile app development services include.
Android Mobile App Development
iOS mobile app development
iPad mobile app development
Mobile App Development Price
Mobile app development price is the price sum up at the end of the total expenditure for the development of an app. There is a lot to say as to conclude how much it takes for the price but in short, it depends on the type of Pakistani mobile apps you are going to create or make.
For instance :
* Native apps
If you are building your own app natively it will definitely take longer than the usual cost. Because the iOS or Android app developers need to work on a platform differently and independently.
It will cost near 15 to 40 US dollars.
* Testing
Whatever you make needs a final test to make sure if it works accurately, same is the case with this. Automation requires more money than the manual but in the end, it will give better and way better results.
*Hybrid Cross-Platform apps:
Apps that can reach a big number of worldwide spectators in less time and low cost are these. It doesn't require a personalized app developer to work independently so fewer efforts lead to less time and money.
Some points above are to look at before making a decision on the expenses of a mobile app.
As all of us know, from the very beginning of a business we need to provide the customers with the best of what we got but cost reduction is also important at the same time. But the overall cost relies on the demand of the customer as per what they want for real.
Versatile application development
Versatile applications give you day in and day out access to your customer or client. That is the reason these applications are more common in use. The current measurements demonstrate exponential development in cell phone use in all parts of everyday life.
What's more, the computerized stage driving up this use is portable applications. That is why you have to come to new technology like mobile apps which include iOS as well as Android.
So for custom mobile app development, Mobile apps development, Pakistani mobile apps, mobile app developers in Pakistan, mobile apps developers you can contact us.
High Demand of versatile application
First idea web company gives versatile application advancement administrations to Android and iOS. These stages cover over 90% of cell phones being utilized around the world.
When we plan and create applications, we deal with various cell phone sizes, variations, screen resolutions. Due to these reasons, customer highly recognizes to work with us. Ordinarily, all applications ought to be working superbly on iPad for iOS and tablets for Android applications. This is because of its usability in the current era.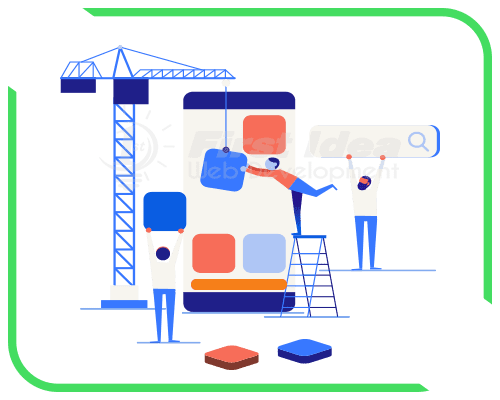 Mobile application development and mobile app developers in Pakistan
Mobile apps development for uniquely designed APPs is based on a solid improvement range for included usefulness and enhanced execution of PDAs. The most famous cell phones need improvement that suits singular organizations and individual needs and moreover due to its importance. We come to terms that business prerequisites fluctuate essentially which creates a requirement for tweaked Mobile App Development.
So for custom mobile app development, Mobile apps development, Pakistani mobile apps, mobile app developers in Pakistan, mobile apps developers you can contact us.
Mobile app developers in Pakistan
The first idea web development company have proficient  Mobile app developers in Pakistan with over the edge understanding. Due to these things, the customer tends to work with us. We work well with clients so that customer understands easily. Our experts examine and comprehend your goals and propose the best and the least expensive answer for your business. Because of these features customer satisfies and as well as enhance rating.
Mobile-based services and Pakistani mobile apps based services that we provide
Innovative plan and advancement of versatile application for each business can produce a great degree great outcomes. So for Mobile apps development, Pakistani mobile app, mobile app developers in Pakistan, mobile apps developers you can contact us. We work intimately with our customers to make easy to use yet adroitly practical applications. Because of this customer like our work.
We are also working on other customers' demand applications
We take after full programming improvement cycle from framework examination and engineering to advancement. Then establishment of gadgets and transporter testing, facilitating and support of the versatile application. Because this thing supports your customer as well as the quality of a product. We also work on iPhone as well as iPad applications. Because of customer demand.
Game development
Outsource application development
Web-based application development
Custom mobile app development
Custom mobile app development in Lahore
For custom mobile app development in Lahore, Mobile apps development, Pakistani mobile apps, mobile app developers in Pakistan, mobile apps developers you can contact us.
For more information click here
FAQ - Don't Worry, We are here
Should your application support iPad and tablet mode?
If the budget is more flexible too and you target your tablet mode than we will add this compatibility. In the beginning, this will decide before signing the proposal.
If I have a unique idea – how can I share it with you to make sure that it will secure?
We can ensure you that our private limited company has his own terms and condition which we follow and signed with you for the security of your idea. Your idea will not spread anywhere except to our development team.
Would I need to talk with your entire team during the development of the project?
We will assign a project manager to your project who will talk to you on behalf of the team and providing you all the update of the project and manage your project till its deployment. You need to convey your point to a single.
What platform should we target?
Android/IOS or both? With the passage of time and coming technologies and the popularity of technologies of both platforms, we must recommend you to launch your product on both platforms.
What will happen with my application when the new operating system releases in both platforms IOS and Android?
With the release of the new operating system, both technologies provide it detail documentation. You should test your application and contact us to the problems that occur due to the launch of OS we will solve your problems.
What is your payment policy and which terms and condition apply?
Our payment terms and condition are so simple and reliable for you and our company. We will divide it into 2 terms. First half will be on the time of starting the project and second half on deployment on the project.
Client's Thoughts
- Raza Tareen
A good web developer in Lahore and deliver on time. 
website:
Proprietor
- Moon
You have always shown dedication to do the high-quality work we desired, always delivering on time.
website:
Freelancer
- Tanveer Abbas
It is pleasure to work with you. High-level skills and easy communication. Will work with you again and recommend everyone who needs fast and quality work. 
website:
Managing Director
- Salman Qadeer
I heard a lot about you but you are more of that, nice team, Good effort, and more of that your all are really hard working persons, thanks for helping me to increase my business. 
website:
CEO
- Muhammad Imran
It's really amazing to work with you, I discover more way to publishing my business to the digital world. More of that you are highly interactive with clients.
website:
Freelancer
- Ali Zeeshan
An absolute pleasure to work with you. 
website:
Chief Executive Officer
- Adeel Chaudhry
You were extremely helpful with my project and was more than happy with any queries that I had. They changed the end result to better than I want for and was so quick with all processes. Highly recommend to all. 
website:
Freelancer
- Sohail Shiekh Afzal
Nice persons to work with. Always available to clear out doubts and fill all the requirements. The team is very good at communicating and fixing issues. Looking forward to working with them again.
website:
Seasonal Client
- Mohsin Mehmood
Al what I can include in your team is available whenever I contacted. Thank you. Great experience working with you. 
website:
Freelancer
- Mohsin
Would love to work with your company in the future.
Our Clients
Our Clients