Branded SMS Marketing Services in Pakistan – Get Now!
Looking for Sms marketing company Pakistan? Need trends branded SMS marketing in Pakistan? Get business SMS - Send Bulk Marketing with Company Name to All Mobile Network.
What actually SMS Marketing is?
Short messaging service marketing, a way of promotion through SMS. It uses permission-based texts used for delivering promotional texts. Sending messages to customers. Giving them information about different things. Sending them short messages for the promotion of their businesses and services.
Text messaging is an ideal way to deliver your services to customers and gain their loyalty towards you. Moreover, it is less costly and tends to less budget used to deliver your services to more people. In fact, 60% of SMS marketing in Pakistan is preferred than emails or any other source.
Moreover, gaining your customer's interaction and delivering your services towards clients SMS marketing in Pakistan is helpful in giving reminders of upcoming events also.
SMS Marketing in Pakistan - Your Best Packages






"NTN is essential for branded SMS Marketing services."
FIrstIdeaWeb is a leading software house providing a service os SMS Marketing in Pakistan. Firstly, have a portal for a marketing platform. Afterward, have different packages. Go for the one to get started.
Furthermore, many different networks are used in Pakistan. All have different packages. To go for branded SMS marketing, select one network first. SMS marketing in Pakistan is the latest invention of marketing. So always go for branded SMS Marketing.
As we know that mobile users are increasing day by day. People are moving towards mobile phones than any other thing. Moreover, the most used platform for interaction or communication is mobile phones now. People read messages and get aware of many things. On the other hand, they don't prefer any other mode now a day.
Top Trends in SMS Marketing 
As our youth is moving towards mobile phone use more. Moreover, people read and receive information more through SMS. So the demand for SMS marketing in Pakistan is increasing day by day. Top trends in SMS marketing are:
Used for transactional status

Leading towards direct marketing channel

SMS Marketing in Pakistan is used by top industries

Moreover, SMS Marketing in Pakistan is going ahead then email marketing

Conversations are increasing by SMS marketing in Pakistan

It leads to interaction between customers and business man's also
The top trends in SMS Marketing are a way basically to create an interaction between customers and businessmen also. Branded SMS Marketing, SMS marketing in Pakistan leading to the trend of marketing more.
Branded SMS Marketing Leading towards Business Promotion!!!

Firstly, the trend of the internet was not too much. People were not aware of the term internet. But now it is a world of IT and increasing day by day. Firstly, the technologies were not so advanced. But now science has been advanced too much. The mobile phone is one of its technology.
The focus of our youth is increasing towards mobile phones. So, branded SMS marketing is one of the best ways. One can you for the promotion. In today's world when the use of mobile phones is to a large extent nothing is more best for promotion than SMS marketing. We should prefer SMS for marketing trends.
Companies should go for branded SMS marketing services. Thus will help in increasing the market. Moreover, helps in the promotion of a business. Send different promotional messages to clients. Moreover, writes short texts and send them to your clients. Leading towards transferring your information to clients. And way towards promotion.
SMS Marketing Agency Lahore, Pakistan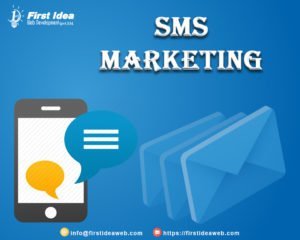 Many companies in Pakistan are offering SMS Marketing services. As many networks are used in Pakistan. So every network has its different package. And many companies will offer you these services. But the question here is that whom should you go for? FIWD the best SMS marketing agency Lahore, Pakistan.
If you are looking for branded SMS marketing service then search for the SMS marketing agency Lahore, Pakistan. And go to the best company. The right choice means a way to success. SMS marketing, a way to promote a business through SMS so go for the best agency and select the right one.
SMS Marketing agency Lahore, Pakistan working with honesty for its clients. FirstIdeaWeb is the best agency providing a service. Go for it, deliver messages to more people. And increase clients. Therefore, more promotions, more clients. And more clients more business.
How to Set up SMS Marketing?
Increase your business with FIWD and go for branded SMS marketing. And have a good idea of trends in SMS marketing. The point here is how can I set my SMS Marketing portal? Let us tell you:
Firstly create an account. Fill the form and complete the formalities, name, address, or contact details.

Then go to activate an account

Afterwards, create a group of people

Then create a campaign for a message

Send your message to all in group

Good! Now, all done.
Oh! You have done all, your SMS has reached the people. 
This is how SMS helps you. Isn't it too easy? 
Only it takes a few minutes and done with all. 
Now sit back and wait for clients' actions and responses.
How is it effective?
Branded SMS marketing, the most beneficial for all businesses, organizations to lead towards promotion by easy and simple means. According to research, it has been estimated that 85% of youth prefer SMS over any other mode. SMS marketing has effectively increased the way of promotion. To reach more audiences with easiness and in less time. Moreover, in less budget.
High rate and more demand lead that its demand will be so high in upcoming years. The number of people using mobiles increased triple times in recent years. According to research, an estimation has taken. A person touches 2,617 times a day on his mobile phone. So how could he don't reach an SMS?
Don't you now think its the most effective way? Many businesses now are trending toward SMS marketing. Then why don't you? Still in a wait for something. What are you waiting for? People are going towards success by increasing their promotions. Why don't you? Come and join FIWD today. Get SMS marketing service in less budget and go ahead for success like others.

So, if you are looking for the services,

 Contact FIWD PVT LTD 

through

 call, WhatsApp, online chat, Google, or drop an email. 
 

Try

 Domain hosting, SEO, website development (e-store) & enhance your business through Digital Marketing.
  

To generate a ticket / give suggestion/complaint, please

 click here.