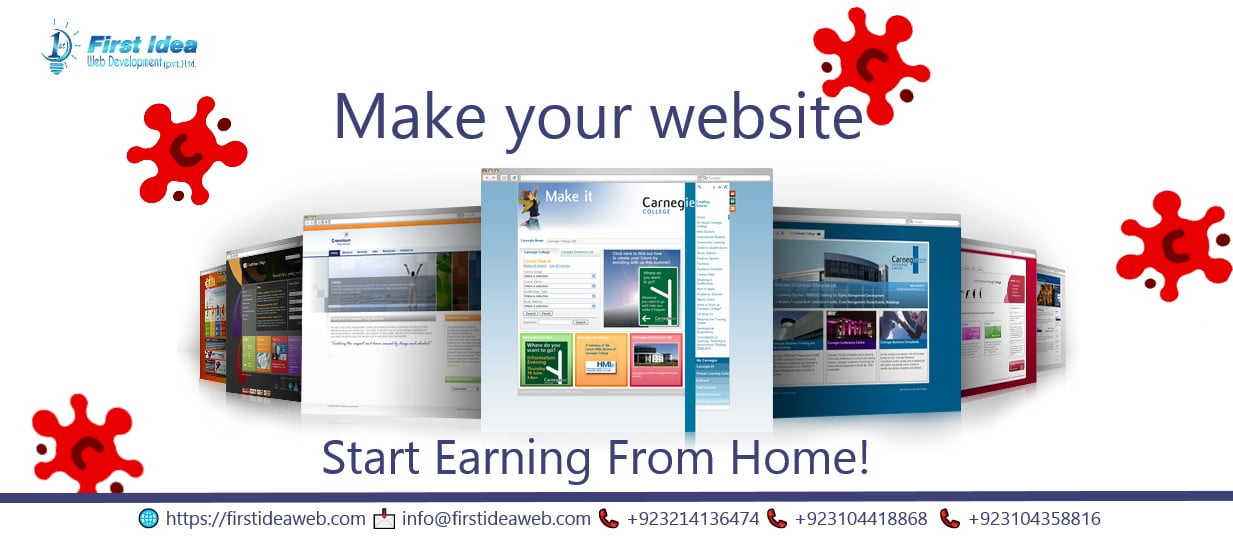 Having severe Business Break Downs in your area? Make Website & Earn Online!
Karachi is facing a lockdown !! Having am epidemic outbreak in your area? That might sound astonishing not having a downfall in your business?  Due to this COVID-19 outbreak, all of the businesses are breaking down.  People are worried about their livelihood. Such as about their basic needs of food, clothes, etc and a lot more. But we, the best software and web development company in Karachi have a smart solution. Our solution for you is to virtualize your business and cherish e-commerce.
Virtualize your business –software and web development company
FIWD holds your hand in this time of great trouble. In this pandemic outbreak, we provide you with discounted virtualization of your almost drowning business. Virtualize your business and protect it from downfall. We have the latest technology to maintain your business soundly. With the best software and web development company in Karachi, you will have a wonderful customer experience. Selecting us you won't ever regret it.
Why FIWD – Best software and web development company in Karachi?
FIWD software house offers web development, web designing in Karachi, logo designing, domain registration, web hosting, search engine optimization, digital marketing, e-commerce solutions, Pay-Per-Click (PPC) campaign management & graphic designing. Along with that, we give comprehensive outsourcing services like Portfolio design, e-brochure designing to all companies in Karachi, Pakistan as well as around the globe.
No need to go out – No need to shake hands – No need to move rushy markets – Make Website – Online Business – No worry of Covid-19
We Provide Best and Latest Technology – Modernize Your Business
In this era of technology, having e-commerce sites are not new. But when it comes to the most latest and reliable technologies, we stand out in the market. Our remarkable strategies to build the latest technology smart websites is what makes us more special. Hence, tech-smart people always choose us. Because wisdom says we are a team of multiple & best software and web design company in Karachi.
Online Marketing and commercialization is The Right Idea – First Idea!
These days, Online marketing is the one-stop solution to all your business downfall issues. In this hustle and tension of pandemic outbreak, it's not less than wise to choose the software and web development companies in Karachi as you saviours. It will make your business excel in the world. Your sales and purchases will increase to an amazing level. Making you excel in the market. Your customer will increase in number, providing greater traffic on your site. Consequently, there will be an increase in your orders too.
We Offer Discounted Services
FIWD the software and web development company in Karachi provides you with the latest technology at very reasonable fees. In this time of chaos and downfall, you needed assistance. Hence FIWD is always here. It not only provides web solutions but also your daily solutions for life issues.
Our Aim:
FIWD software and web development company in Karachi aims to provide you with affordable virtualization services. Where education has virtualized, why can't your business too? Hence contact us ASAP!
So, if you are looking for the services, Contact FIWD PVT LTD through call, WhatsApp, online chat, Google, or drop an email.
Try Domain & hosting, SEO and website development & enhance your business through Digital Marketing.
To generate a ticket / give suggestion/complaint, please click here.